Hello all,
Thanks, as ever, for taking time to read this humble fingerpicking guitarist's blog, it really is very kind of you.
I write from Riga, where two of the songs from my latest album 'The Last Car' were born, the title track 'The Last Car' & 'When Will She Learn' – it is strange to tread the old steps of creativity, but fascinating nonetheless.
The reaction to the album has been fantastic, and I'm greatly appreciative of all those who have bought or taken the time to listen to it, as well as those who have given the album wider exposure, including (amongst others) Iain Anderson, Frank Hennessy, Roddy Hart, Cherrie McIlwaine, The Durbervilles at the BBC, Jim Gellatly & and to The Glasgow Herald for this excellent review
In other news, Simon P Biggs & I are delighted to announce that the video for 'A City Beautiful' has been nominated for the Edinburgh International Film Festival Short Film Challenge & shall be shown on the Big Screen, which will be a huge thrill for us both.  If you haven't yet seen it, here's the link!
Have you heard the one about the Scottish fingerpicking guitarist in the German charts?!  You will soon…..courtesy of DJ Cosmin, a leading Bavarian DJ, an unusual collaboration has lead to a release of ours entitled 'Reality' chart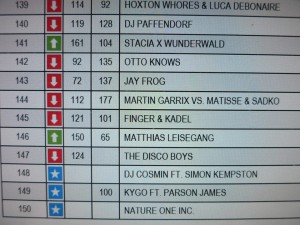 ing in Germany.  Don't believe me…..here's the evidence! And you can download the track here.
And last, but not least, those residing in Auld Reekie, or visiting our fine Capital City during the Edinburgh Festival, please come along and see my brand new show, featuring many songs from 'The Last Car', fresh, for the first time live!  This is the official link for tickets.
Word has it a certain 1987 Fylde Othello guitar may be making an appearance……..
Hope to see you on the road somewhere soon, thanks as always for checking in.
SK x