Biography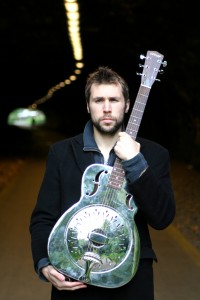 It was as a young teenager in Dundee that Simon first came across a steel guitar which was gracing the cover of the Dire Straits album 'Brother in Arms'. His subsequent fascination with the sound of this instrument lead him on a journey of musical discovery which took him back to the blues masters of Son House, Robert Johnson & Lightnin' Hopkins. It was the honesty, simplicity and emotion in the voice, songs and guitar of the music of this genre that struck a chord with Simon – how so much could be achieved with so little.
Following hot on the heels of the critically acclaimed debut album 'Beyond Desolate', Simon, with his distinctive contemporary alternative blues act 'Man Gone Missing', wrote, recorded and released the follow-up album entitled 'Burn You.' This album offered another diverse and fantastic collection of material and certainly marked a step forward in both the sound and writing from 'Beyond Desolate.'  Armed with his trusty resonator, Simon once again recorded in what he considered the perfect surroundings for this music, the century old All Souls' Church in Invergowrie, Perthshire. This time however, with a change of both recording & producing personnel. Simon enlisted the gifted Glaswegian harp player Drew Lynch to play alongside him whose wonderfully economic harp playing provided the perfect foil to Simon's vocal.  It is extremely rare indeed to find two musicians who have such a perfect understanding of the importance of space & silence within a song.
With excellent reviews for both 'Beyond Desolate' & 'Burn You' in publications across the country, appearances at Blues Festivals & Clubs across the UK and further afield, Man Gone Missing was a success for both critics & audiences alike with Simon's take on modern acoustic blues.  Currently on a hiatus since 2011, there are intentions to resurrect this project in the near future.